The 2023

CORE

Class is currently full.
Applications for the Waitlist are still being accepted.
Alumni Sessions are accepting applications.
Core: July 31 - August 4, 2023
Training Location: Montgomery, Alabama


Payment Information
When we receive your application, it will be reviewed. If you are accepted into the training, we will invoice you. You will not need to pay until you have been officially accepted. You may pay by check or PayPal, which allows you to use your credit card. Please note that the rate you pay will be based on the date we receive your application provided it is received within 30 days of notification of acceptance and invoicing. If payment is not made within 30 days, your application is subject to removal from the participant list.


If you are placed on the wait list, you will be informed and invoiced only if there is an opening and you accept it.
Important Notice: Refund policy remains in effect regardless of format of the training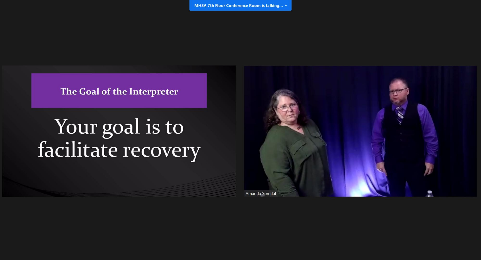 ALUMNI TRACK INFORMATION
The MHIT Alumni Sessions will be held October 2 - 6, 2023. Participants of previous MHIT Interpreter Institutes
are invited.
Additional information will be posted here as it
Preregistration Required. Applications Closed
Registration Fees:
COST OF TRAINING Through August 1, 2023
PARTICIPANTS $250
CORE-ALUMNI PARTICIPANTS $150
QMHI $85
AFTER August 1, 2023
PARTICIPANTS $325
CORE-ALUMNI PARTICIPANTS $225
QMHI Supervisors Weekly Rate: Waived
Continuing education offered for Counselors, Social Workers, Psychologists, and Interpreters.
Agenda and application for the Alumni Track Will be posted in the summer.
Email questions about the alumni track to
alumni@mhit.org.
---
Application Process
The application is online.
Apply Here
or you can scan the QR Code





Additional information will be added to the website as it becomes available.
Applications will be reviewed and participants should receive confirmation within 10 working days. If you have not received information after 10 working days, please contact our office at charlene.crump@mh.alabama.gov